History of Australian Tatar Diaspora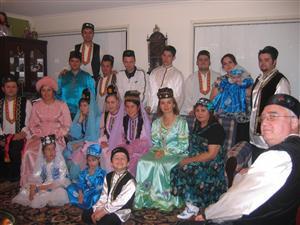 According to the information available to us, the first Tatar to arrive in Australia is considered to be Abdul Ganivahoff, a sailor. He was born in 1886 in Kazan and fate brought him to the city of Melbourne, Australia. He was enlisted into the Australian Army at Melbourne Town Hall on the 18th of February, 1916, despite being barely able to speak English. His battalion went on to fight on the Western front in France, where he was killed in action on the 27th of February, 1917.
Regardless of where they lived, Tatars shared both good days and bad days with their communities. Tatars are courageous, hard-working, and industrious. Most importantly, they are willing to make sacrifices to help others. Abdullah Efendi's willingness to enlist in the Australian Army and risk his life is just one simple testament to Tatar character.
Similarly, Tatars living in East Turkistan (Xinjiang) have fought courageously against unjust and oppressive regimes, sacrificing their lives for the freedom of the local people.
In 1944, the first Tatar person to lose his life in the Three District Rebellion was Mr. Jawdat Gimadi. A 16-yearold Tatar girl, Rayhana Gabitov, displayed great courage when she carried wounded soldiers away from further harm, despite bullets raining down like hail. Even today, her heroic actions are regularly mentioned in journals. Likewise, Suyungul Chanisheff, daughter of Salih Valiyff, spent 10 years of her life in prison, losing all of her basic human rights in the struggle for the liberation of the Eastern Turkistan people from the clutches of Communist China. Her efforts became a legend among her people.
Tatars have tried their best to provide good education for their children, to pave way for them to become respectful, beneficial members of society. Today, many young Tatars who are first-generation Australians are becoming engineers, doctors, lawyers, teachers and business people, contributing positively to Australian society.
Tatars began to immigrate to Australia shortly after the Second World War. Families settled in Sydney and Melbourne between the 1950s and 1980s. Their grandparents and parents left Tatarstan and immigrated to places like Harbin City in China, as well as Japan and Korea in the 1920s. Later, these families immigrated to Turkey. Most of these families came from Turkey to settle in Australia.
The first group of Tatars settled in Adelaide, South Australia in 1949. Their journey was difficult. Some came from German labour camps and displaced people's camps, and some from Poland and Latvia. Families who settled in Adelaide.
The second wave of Tatar settlers in Adelaide came from Eastern Turkistan (Xinjiang), under the "White Russian Program" in the late 1970s. The Sadri and Gabit families arrived in 1976. They sponsored other immigrants and families, who settled in Adelaide prior to 1985.
From the 1990s, families settled in South Australia, coming from countries such as Uzbekistan, Kazakhstan and Tatarstan. In more recent years, Tatars have migrated to Australia under the spouse visa, skilled migration program, or with student visas.
Early Tatar settlers found life in Australia very difficult, due to their lack of English language. They worked in factories for up to 2 years to provide for their families. Tatars, who settled after 1980, often experienced difficulties in finding unskilled jobs. Furthermore, few standardised English courses were available to new immigrants. Despite all these difficulties, Tatar settlers worked in any jobs they could find, studying English at the same time.
They washed dishes at restaurants, worked as cleaners in hotels, washed motor vehicles in car sales yards, and worked at various factories and construction sites. They saved for years in order to be able to buy houses and sustain their new lives in Australia. The majority of Tatar settlers had been subjected to harsh treatment and often had all their wealth confiscated from them in the countries where they lived before. After half a century, Tatars have finally managed to stand on their own two feet. Overall, the Tatar community in Australia has done remarkably well in adapting and integrating into the new social and cultural environment in Australia.
A large proportion of Australian Tatar adults have tertiary qualifications from local or overseas universities, and the majority of Tatar youths in Australia are either studying for a university degree or have already graduated with a degree or diploma. Most are either employed in white-collar occupations, or are now operating their own businesses.
We only hope that the work ethic and morals that have brought the Tatars this far will not be forgotten by the next generation, and that they will continue preserve their cultural identity and to contribute to society proudly, so that one day a book may also be written about their legacy.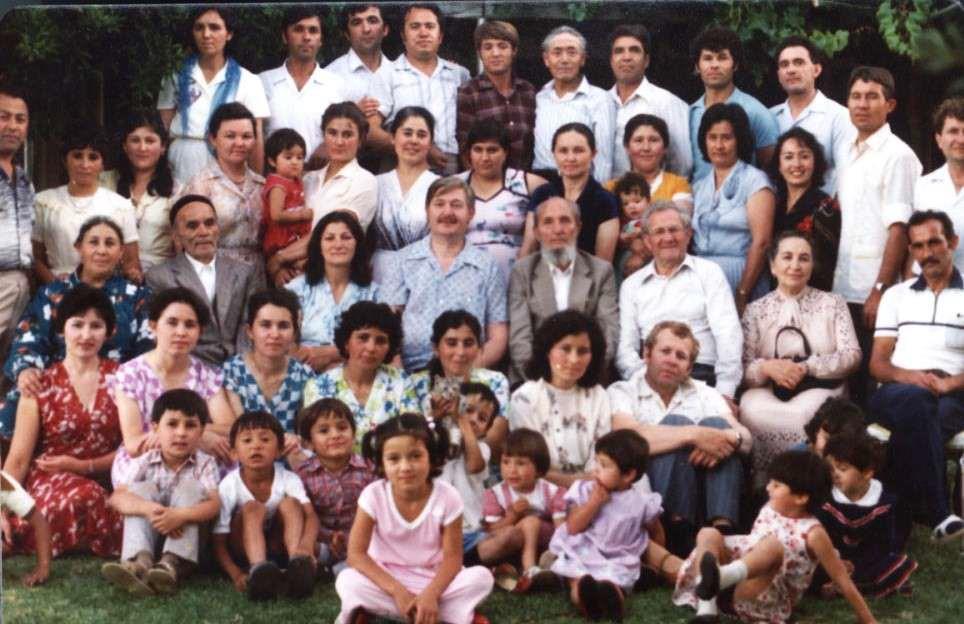 The Tatar and Uzbek communities are in Adelaide, 1981.