History of Australian Tatar Diaspora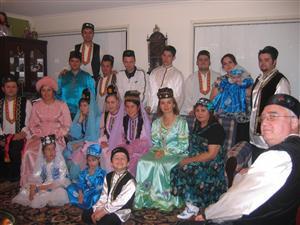 Tatar Diaspora in Australia emerged during the World War I. According to Russian Anzacs in Australian History (Elena Govor and National Archives of Australia (NAA), 2005), the first Tatar man Abdul Ganivahoff arrived to Melbourne, Australia in 1916, as a Russian sailor.
Since late 1940s and 1950s after the World War II tatar migrants arrived from Germany after being released from German concentration camps. Tatar migration to South Australia continued from Poland, Manchuria and East Turkistan (China), Japan, Turkey, in recent times - from the Russian Federation.
A solid foundation of Tatar Diaspora in Australia was laid by Tatars migrated from Chinese province of Xinjiang (East Turkestan).
Today families of Valiev (Valiff) and Sadri are the biggest and most influential in the Diaspora whose ancestors came from Tatarstan's Kukmora, Baltai and Apas regions.
Tatar community is part of a multinational Australian society and makes its worthy contribution to the economy, business, arts and culture. Tatar Diaspora conducts national and religious festivals, such as Korban Bairam, Sabantui, Nauruz Bairam and other multicultural festivals in Australia.
In 2006, Adelaide Tatars hosted Tatar Dance Ensemble "Kazan" from the capital of Tatarstan (lead by Chulpan Zakirova). There were a number of performance concerts organised in Adelaide, Sydney and Melbourne and sponsored by Tatar businessman Rustem Sadri.
Since 1997, with the support of the Department of International and Multicultural Affairs, Australian Tatars have conducted a national festival Sabantui, where representatives of other nationalities of Australia familiarise themselves with Tatar history, traditions and culture. Sabantui mostly takes place in November - December, beginning of summer in Australia.
Other Tatar families living in Adelaide are Maski family, whose ancestors from Bashkortostan migrated to Turkey and Japan before coming to Australia. Another prominent family is a Chanisheff family who brought pedagogical traditions of Xinjiang Tatars and in 1981 organised the first ethnic Tatar school in South Australia.